Il SaKong, Chairman, Institute for Global Economics based in Seoul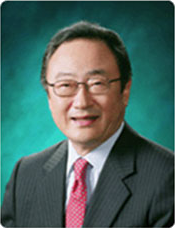 Dr. SaKong is Chairman Emeritus of the Institute for Global Economics (IGE), a private non-profit research institute he founded in 1993.
He served in the government of the Republic of Korea as Minister of Finance (1987-1988), Senior Secretary to the President for Economic Affairs (1983-1987), Ambassador for International Economy and Trade (2000-2002), Special Economic Adviser to the President (2008-2009) and Chairman of the Presidential Committee for the 2010 G20 Seoul Summit (2009-2011).

He was Special Consultant to the International Monetary Fund (1989- 1992), Chairman of the ASEM Vision Group (1988-2000), Chairman of the Emerging Markets Eminent Persons Group for reforming the international financial architecture (2000-2001), Board Member of the East-West Center of the U.S.A. (2002-2013) and Chairman of the Korea International Trade Association (with more than 72,000 corporate members) (2009-2012).

He taught economics at New York University (1969-1973) and Sheffield University (on leave from New York University) (1971-1972). He also taught at Korea University as Distinguished Professor (2003-2007).

He received various honors and prizes, including the Korean government's highest Order of Civil Service Merit, "Blue Stripes (1990)", the Korean government's highest Order of Civil Merit, "Mugunghwa Medal" (2012) and 2nd highest, "Moran Medal" (1983), the Republic of China's Order of the Brilliant Star with Grand Cordon (1987), the Kingdom of Belgium's Order of the Crown (1986) and Korea University's Grand Prize for Distinguished Policy Makers (2002).

Dr. SaKong graduated from Seoul National University (1964) and received his Master's (1966) and Doctoral (1969) degrees from University of California at Los Angeles (UCLA).